GLOBAL OIL AND GAS MARKET INCREASES TO OVER $7 BILLION IN 2023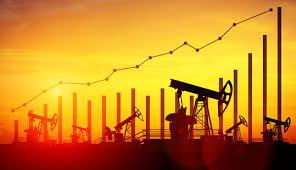 This year, the global oil and gas market has reportedly increased from $6,989.65 billion in 2022 to $7,330.80 billion in 2023 at a compound annual growth rate (CAGR) of 4.9 per cent; regardless of the Russia-Ukraine war which disrupted the chances of global economic recovery from the COVID-19 pandemic, at least in the short term.
The war between these two countries has led to economic sanctions on multiple countries, a surge in commodity prices, and supply chain disruptions, causing inflation across goods and services and affecting many markets across the globe. Nonetheless, oil and gas market is expected to grow to $8,670.91 billion in 2027 at a CAGR of 4.3 per cent.
The oil and gas market consists of sales of crude oil, natural gas, refined petroleum products and asphalt, lubricating oil and grease. Values in this market are 'factory gate' values, that is the value of goods sold by the manufacturers or creators of the goods, whether to other entities (including downstream manufacturers, wholesalers, distributors and retailers) or directly to end customers. The value of goods in this market includes related services sold by the creators of the goods.
Asia-Pacific was the largest region in the oil and gas market in 2022. North America was the second largest region in the oil and gas market. The regions covered in the oil and gas market are Asia-Pacific, Western Europe, Eastern Europe, North America, South America, Middle East and Africa.
Low interest rates in most developed countries will positively impact the oil and gas industry during the forecast period. For instance, in March 2020, UK decreased the interest rates to 0,1 per cent which was the lowest ever.
Furthermore, other Central Banks of countries such as North Macedonia, South Africa, Malaysia, Kenya, Argentina, Ukraine, Sri Lanka, and Azerbaijan, as well as Turkey also decreased their interest rates in 2020.
Oil price volatility is likely to have a negative impact on the market as significant decline and increase in oil prices negatively impacts the government and consumer spending.
The decline in oil prices is having a negative impact on government spending in countries such as, Nigeria,  Saudi Arabia and the UAE (United Arab Emirates) which are largely dependent on revenues generated through crude oil exports; whereas significant increase in oil prices had resulted in rising inflation, current account deficit and fiscal deficit in countries such as India and China, which predominantly import oil.
For instance, the Saudi government is expected to cut down its spending from 1.05 trillion riyals ($280 billion) in 2019 to 1.02 trillion riyals ($270 billion) in 2020, to 955 billion riyals ($255 billion) by 2022, due to significant decline in revenues generated from oil exports, thereby affecting the market. This high volatility in oil prices is expected to negatively impact the market going forward.
Major companies in the oil and gas industry are looking into big data analytics and artificial intelligence (AI) to enhance decisions making abilities and thus drive profits. These major companies include Royal Dutch Shell, BP plc, Saudi Aramco, Exxon Mobil, Gazprom PAO, Chevron, Iraq Ministry of Oil, PJSC Lukoil, Total SA, and Rosneft. The companies gather huge amounts of raw data relating to the working of refineries, pipelines and other infrastructure through a large number of sensors placed across the oil rig. Using big data analytics, the companies can detect patterns which can allow them to quickly react to unwanted changes or potential defects, thus saving costs. AI allows the companies to take better drilling and operational decisions.
Companies such as ExxonMobil and Shell have been increasingly investing in AI technology to have a centralized method of data management and support data integration across multiple applications. Other companies such as Sinopec, a Chinese chemical and petroleum corporation, has announced its decision to construct 10 intelligent centers to help in reducing operation costs by 20%.
The market value is defined as the revenues that enterprises gain from the sale of goods and/or services within the specified market and geography through sales, grants, or donations in terms of the currency (in USD, unless otherwise specified).
The countries covered in the oil and gas market are, Nigeria,  Argentina, Australia, Austria, Belgium, Brazil, Canada, Chile, China, Colombia, Czech Republic, Denmark, Egypt, Finland, France, Germany, Hong Kong, India, Indonesia, Ireland, Israel, Italy, Japan, Malaysia, Mexico, Netherlands, New Zealand, Norway, Peru, Philippines, Poland, Portugal, Romania, Russia, Saudi Arabia, Singapore, South Africa, South Korea, Spain, Sweden, Switzerland, Thailand, Turkey, UAE, UK, USA, Venezuela and Vietnam.